Last year, I had the chance to attend the last two nights of the first leg of Jamie's European tour in the beautiful city of Paris. I've dusted off my review to share
here as it was such an amazing experience.
Thursday June 10th 2010
The city:
Paris is one of my very favourite places to visit. Something about it creates an indescribably special feeling! Maybe knowing it was the end of the tour made a difference, feelings of excitement tinged with sadness. This was my third time of seeing Jamie in Paris and memories of those previous gigs reminded me it was most certainly going to be something extraordinary. It was thrilling to see his name in lights over the front of the venue! Before the show, I had some locals asking me who this Jamie Cullum was. Of course, it was completely sold-out, so I told them they had to make sure they catch him next time he is in town!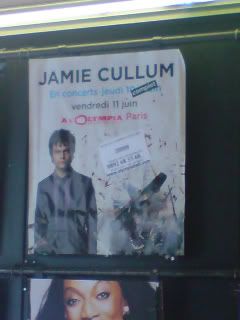 The venue:
The Olympia is a great venue. I had been there before, however, I hadn't realised it would be standing downstairs and as someone else had booked the tickets, I was gutted to find our 5th row seats were in fact in the balcony. I have been spoiled with great seats previously and should just be glad to have been there. But the front of a gig is just such a different experience and simply can't be matched elsewhere, for me anyway and I know some of you will understand where I am coming from on that. Disappointment aside, I guess it was interesting to view from a different angle. A lot of the time, I couldn't see Jamie very well due to people standing up in front of me so had to make do with watching him on the big screen. It was incredibly hot on the first night, so that, coupled with the electric atmosphere made me think I was at a rock concert rather than 'jazz'!

The show:
The opening act was Lauren Pritchard. She had a strong voice and the crowd were really supportive. Check out her music here - www.laurenpritchard.com

By the time Jamie came on stage, the crowd was roaring its approval, ready to party! Balloons were flying around downstairs. Looked great fun (as I viewed longingly from afar!)

Jamie just smiled the whole way through 'Just One Of Those Things'. I think he knew it was going to be an amazing night. Super solos as usual from Tom and Rory.

'Get Your Way' included obligatory piano jump and kicking the balloons back into the audience! We had quite a bit of French from Jamie which was nice. There were mentions of the world cup and also the heat in the venue! He asked who was there the last time and was glad to hear there were some repeat customers. Then he asked for a balloon and kicked it, (accompanied by a big oooooohhh from the crowd!) saying "You know they call me the Beckham of jazz. There it is, but only with a balloon." He then spoke of how honoured they felt to be back at this legendary venue and promised us a great night!

Next came the band intros before a beautiful rendition of one of my favourites 'All At Sea', which never fails to bring a tear to my eyes, which morphed into 'Chicago', followed by 'If I Ruled The World.'

The lead into 'Twentysomething' was about Jamie's dream of studying classical piano in Paris (he wasn't joking) and how he would sit in cafes reading Le Figaro. This comment got a reaction from the audience, so he thought maybe it wasn't a good paper and asked what he should change it to. He ended up thinking Le Figaro was like the Daily Mail, (except we call it Daily Fail he said!) The crowd joined in very enthusiastically with the sing-a-long parts!

'Wheels' is such a stomping anthem, fantastic song for a gig! Big cheers for the brilliant Ben L (stage manager extraordinaire) who got his deserved moment in the spotlight when he came out in a fluorescent suit to play the melodica!

Taking it down in tempo, Jamie introduced 'What A Difference' by saying "My mum and dad are here tonight. This is for them. Feel free to cry." It was amazing as always!

Brad, Chris, Tom and Rory were all INCREDIBLE. They hang on Jamie's every word/note, waiting to see where he will take the show. I LOVE how they sit back and watch him when he is improvising or just playing solo. It's something you have to see yourself to know what I mean.

There is an element of comedy in the shows too. He is a very serious musician, who really knows his stuff, but he presents it in such a way to make it fun and accessible to everyone present. I believe that is the very essence of a Jamie Cullum show. I defy anyone to come out and say they didn't have a good time!

'Steamrolller (white boy) Blues' on the Fender Rhodes took us nicely into one of my personal highlights - The Cullum brothers duet on 'These Are The Days!' I absolutely LOVE the soulful tone of Ben's voice, it is just beautiful, and it is always so clear to see how very close they are. The pink mini megaphone made an appearance at the end too. Good times!



Awesome to hear 'London Skies'. Jamie on the acoustic guitar and the guys gathered round with varying items of percussion! The crowd was split into two for the harmonies, and knew exactly what was expected of them! Sounded fantastic!

'Photograph' - the tall one with the blonde hair:



'Gran Torino' - just stunning!

'Mixtape' - quite possibly one of the best moments of the night. The jumping, the singing. At the end of the song, the crowd continued to sing, even after the band had left the stage and the lights had gone down, until they came back on. It was magical, gave me goosebumps. Jamie must have been blown away listening from backstage. Showed how much the crowd appreciated Jamie and the gig.

Just when I thought it was over and we couldn't get any more surprises, we were treated to an encore of 'High And Dry'. Gorgeous!

Jamie owned the stage and made it feel like we were in an intimate venue, such is his skill at connecting with each and everyone there. And the thing is, the French crowd were so up for being involved. This really stood out to me, having also been to UK gigs on this tour. As good as they were, the contrast between English and European audiences was massive and it was the audience that I think made Jamie raise the bar even higher. I wonder how Jamie must feel about it, he looked genuinely overwhelmed, even shocked, by the reaction of the crowd. He even said before 'Frontin' when they were cheering him, that he didn't deserve it yet! You read about artists who are arrogant and demanding, and seem to be more interested in the adulation than the music. I found out that afternoon that Jamie still worries before a show whether people will like him. He needn't worry, but his vulnerability and genuine humility is probably what makes him so endearing. His velvety vocals and crazy piano skills, his connection with the audience and his band, his cheeky smile, makes Jamie Cullum one of the best live performers around. Just my humble opinion. He totally brought the house down!

It is hard to say whether these were the best shows I've been to because I love every one, that's why I keep going back! Because no show is the same, you really need to go to more than one on a tour. Also, I would recommend anyone to get to a European show if you can!

Set List:

I'm All Over It
Just One Of Those Things
Get Your Way

Band intros.
All At Sea (& Chicago by Sufjan Stevens)
If I Ruled The World
Don't Stop The Music
Twenty (thirty!) something
Wheels (feat. Ben L)
What A Difference A Day Made
Frontin' (feat. audience scream)
Steamroller Blues / There are the days (feat. Ben ) / I Feel Fine
We Run Things
London Skies (band on percussion)
Photograph - the tall one with the blonde hair
Gran Torino
I Get A Kick Out Of You (feat. Chris)

Mixtape
Wind Cries Mary

High & Dry
The Mixtape Moment
One of my best gig moments ever!